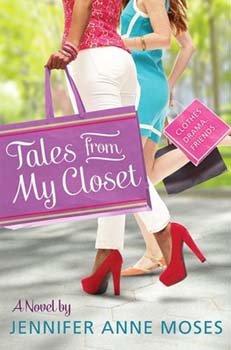 From as early as I can remember, I loved clothes and fashion. One of my favorite memories is of the time my mother took me to New York City for a long weekend, where the first thing we did was go to Bloomingdales. To this day I remember exactly what she bought me there: a pair of matching, polished, ivory bangles; a zip-up, hooded sweater; and my first pair of dress boots. So I loved writing TALES FROM MY CLOSET, just loved it! As I wrote it, I felt like I WAS playing in my childhood Dress Up Chest, which was filled with my mother's cast-off shoes, handbags, dresses, sweaters, gloves, and even slips and stockings. By the time I was in high school, of course, I no longer played "Dress Up." Instead, I lived "Dress Up," choosing my outfits with care, laying out my jewelry, my scarves, my shoes, and my clothes every night before I went to sleep. After all, I had four years of high school (and then four years of college) to get through, and even with boyfriend trouble, academic challenges, family drama and trauma, and exams, I wanted to look my very best! Was it any wonder that my first job after college was at a fashion magazine?
TALES FROM MY CLOSET is the story of five fifteen year old girls who have nothing in common but their love of fashion. Justine is into shopping in vintage clothing shops---when she isn't learning more and more about her father's extracurricular activities. Becka is almost as in-love with her French boyfriend's beat-up raincoat as she is with her French boyfriend, but can't seem to get away from her psychologist mother's interference. Polly swims like a dolphin, but feels more like an elephant, and when her struggling mother, who supports the two of them by giving piano lessons, tries to boost Polly's confidence by buying her an expensive pair of white designer jeans, Polly can't help but feel guilty---except when she secretly feels pretty. Anne has spent her life in her brilliant older sister's shadow, until she discovers a cache of fifties dresses in her grandmother's attic. And Robin just can't seem to stay out of the shops, and keep out of debt, despite her mother's constant hectoring and her father's increasingly irrational outbursts of anger. And when the five of them meet---the sparks fly! Can they ever be friends?
These five girls started talking to me in my head, telling me their stories, explaining their fears and their passions, and giving me their dreams. They talked to me for two years until they were finally satisfied that I'd told their stories right. The result is TALES FROM MY CLOSET.
*"The Sisterhood of the Traveling Pants* meets *The Devil Wears Prada*." Kirkus Reviews
"Vibrant, vivacious, fun, flirty and fabulous, Tales From My Closet is seriously entertaining." Books by Pamela Thomson, blog
"I could NOT put this book down!" The Bookbandit blog
Book Trailer for Tales From My Closet by Jennifer Anne Moses